Therapies & Group Sessions
Complementary Therapies to ease stress and encourage deep relaxation offered by our qualified and insured volunteer therapists.
Subject to volunteer availability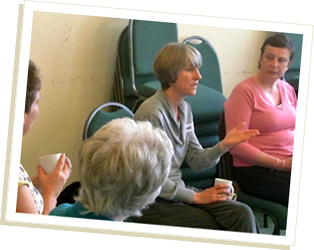 "I feel supported cared for and respected."
H.E.A.R.T.S (Hands on Empathy Aroma Relaxation Textures Sound)
A mix of approaches to help calm and rebalance body and mind. You do not have to remove clothing.
Reiki
Reiki is a complimentary therapy which has been around for hundreds of years and is a gentle way of channelling the natural life force energy we all have within us and around us. It soothes physically, spiritually and emotionally and can be beneficial regardless of age or state of health Lying or sitting down in a comfortable and peaceful environment; clothing is not removed – the practitioner's hands are simply placed gently on or over the body; you may experience mild tingling, warmth or coolness.
Feldenkrais
The Feldenkrais method uses your natural ability to learn and become more aware of your habits to improve movement patterns. It is done through verbal instructions given to a group. Each lesson aims to offer comfortable, easy movements that gradually evolve into movements of greater range and complexity. Clothes are kept on and it is non-invasive.
Reflexology
In reflexology the thumb and fingers are used to press or pin point areas of the feet thought to be connected to organs, glands and other parts of the body. People who have had reflexology report benefits such as relaxation and reduced anxiety.
Massage
The massage practitioner will generally work with oil, using gentle stroking, light pressure and stretching to improve your body's circulation and promote deep relaxation.
Healing
Healing involves a light touch or hands held close to the body. It is very gentle and nurturing, supporting deep relaxation at all levels. It is particularly useful for people who do not like, or are not well enough to receive bodywork.
Homeopathy
Homeopathy offers a gentle and supportive way to manage some symptoms of cancer and its treatment.
Counselling
Cancer can change everything – the way you see yourself, the way you imagine the future, the way you relate to your loved ones, the way you feel about life. One to one counselling can help support you through the process of change.
Meditation and Mindfulness
Relaxing the mind by returning to a single focus of attention. This can help you gain a new perspective and come to a quieter more spacious place in your mind.
Tai Chi
The use of meditation, movement and gentle exercise to create wellbeing. Taster sessions.
Creative Writing
Click here to read Group Poems created at Living Well on the 26th July 2014.
First time? Any Enquiries?
Please phone 07794 688 180
You can also or visit us on Facebook,
or call in and see us for a chat between 11am and 12.30